---
---
Product introduction
Reuleaux DNA250, powered by Evolv DNA250 technology, is JayBo's another flagship of DNA series. Following the original unique appearance, DNA250 features the high power output of 250W and variable temperature control function. Apart from three replaceable 18650 cells and magnetic back cover, the classic bronze makes it much attractive and popular.
Parameters
Cell Type: Three 18650 cells
Size: 50.0mm*40.0mm*84.0mm
Output Mode: TC/ VW Mod
Output wattage: 1-250W
Temperature Range: 100-300°C/200-600°F(TC mode)
Color : Bronze
0.91 inch OLED screen
Wismec Reuleaux Evolv DNA250(Limited Version) comes with
1× Reuleaux Evolv DNA250 Body

1× Back Cover

1× USB Cable
Unique Exterior Design
Its irregular and unique appearance benefits from the structure of 3 replaceable battery cells, which makes it feel great in your hand. (Recommend: high-rate 18650 cells, such as Sony US18650VTC4)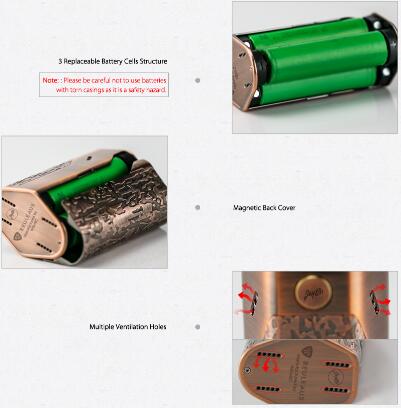 Reverse Polarity System for Batteries
If installed improperly, the plastic hoop will prevent the battery touching the opposite contact head.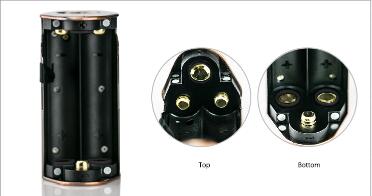 Temperature Protection powered by DNA 250
Reuleaux requires a heating coil made from Nickel 200 or other materials with a well-defined temperature coefficient of resistance, rather than Nickel Chromium or Kanthal alloys when using in TC mode. Appropriate temperature settings will reduce the breakdown of flavoring and base liquid components.
The DNA 250 also allows you to save and select between eight customizable profiles, and Reuleaux will be always current with upgradeable firmware.
250 Watt Variable Power
The maximum output power can reach 250w, which will bring you a wonderful vaping experience.         
Stainless Steel Thread and Spring Connector
The stainless thread makes the device much wear-resisting and the spring connector greatly increases its adaptability.
---